old, something borrowed, and something new!
I can not hardly believe it myself!
Believe me when I say that I am not bragging about this.
I just can not believe it myself that this is my machine!
My old one died so I was borrowing my mom's 20 year old White 5839.
Then out of the blue my husband agreed to buy me this one.
If you only knew the hell and grief I got over this machine.
But it took a motorcycle to see what I had been talking about the whole time.
Forgive me of my disbelief over having this machine.
I am now waiting for the rug to be pulled under my feet.
That has happened too many times before!
But
to reassure me hubby said that he will pick up the Quilter's feet package (stippling, 1/4", and walking foot) to go along with the machine.
Oh, what a sigh of relief!
Speaking of husband, he has gotten much better at helping me pick out prints and color choices too.
He used to dread me asking; What do you think of this?
But now he tosses in his two cents and I take it or leave it.
He helped me pick out coordinating fabrics for the big print below and pointed out that a coordinating purple would be better and a cream.
I am going to make the 241 bag by Anna Graham of Noodlehead.
Which
means our printer really got a work out today!
The pattern is 17 pages long.
So I figured... what the hey and print out a few more needed patterns.
Oh, did you see all those solids?
I've actually decided to join in on a quilt along!
Which one you ask?
This one.....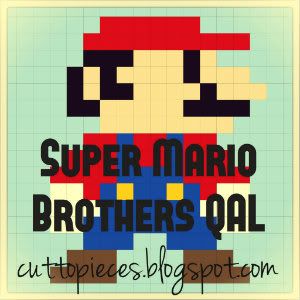 I am also in shock that hubby paid for all the fabric.
The
quilt will be for my stepson for Christmas.
He (my stepson) loves Mario and has almost every Mario game out there.
I could not be more ecstatic because it is hard to find something for a 15 year old autistic child who lives, and breathes video games.
And not to mention the Mario gang of characters are his favorite.
For the longest time these characters were his friends and they were the only "people" he would really talk too.
Now that he is 15, he has realized that they are just characters but he will talk to them every once in a while just out of habit.
Any way now I am on the hunt to find 12 yards of 542 pellon.
My local Joann's was out of it.
Jennifer
Wonderland by MoMo for Moda
Sugar Creek Scribble Dots Rhubarb by Denyse Schmidt - DS Quilts for Joann Fabrics
Egg Plant - Kona Solid by Robert Kaufman,
Sorry not to have every color listed but Kona Solids by Robert Kaufman with a few Bella Solids
by Moda
thrown in.
Machine is an Husqvarna Viking 875Q